TRI-SCREEN DISPLAY
The future of digital multitasking is now here. Using state-of-the-art display technology and the latest Full HD LCD IPS Panels, you can now transform your ordinary laptop into a formidable Triple Screen Command Center thereby increasing your productivity to 300%.
A PROUD CANADIAN COMPANY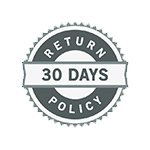 30 DAY RETURN POLICY
DIRECT SHIPPING TO USA & CANADA
SHIPS WORLDWIDE
1-3 YEAR ACCIDENTAL WARRANTY AVAILABLE
INSTALMENT PAYMENT AVAILABLE
PREMIUM QUALITY TESTED
INTERNATIONAL PATENTED DESIGN
REVIEWS OF VERY SATISFIED CUSTOMERS
Still skeptic whether this is too-good-to-be-true kind of a thing? DOn't take our word for it, check out what a lot of customers are raving about since they received their Tri Screen Displays and started using them.
"Now I can work on my main laptop screen, browse websites on another and watch my favourite youtube on the other. I love the high quality they've put into this product and the amazing customer service and fast delivery!"
"Our company bought all of our sales team their own Tri Screen Display and our sales doubled in the first month! Now we don't have to carry any bulky projectors or visual presentations. The Tri Screen Display is all we need!"
Edward E.
"I would give this Tr Screen Display 10 Stars if I could because it made my life so much easier! I never had any problems with it, I clamp it at the back of my laptop screen, attach the cables and DONE! It's just so convenient and efficient!"
Tim S.
"Thanks to my Tri-Screen Display, I know multi-task like a Pro! I have my my apps in one screen, my browser on the other and my main screen for my main application. I can no longer go back to working on a single screen after this. Never again!"
Kevin L.
"I've bought myself this tri-screen display for my birthday and I can now literally work anywhere! Having multiple screens for my laptop is the best thing that happened for portable computers!"
Linh T.
HASSLE-FREE SETUP
Everybody loves tech gadgets but often times setting it up can be a headache. AE Tri-Screen Displays are meticulously designed to make everything work pain-free, hassle-free and headache-free. Here's how easy it is.
Attach Device
Simply unfold the screens and place the bracket over the back of the screen and clamp into place.
Connect Cables
Connect the necessary cables from the laptop/device to the Tri Screen Displays.
Yay! Done!
That's it! No hassle. Just configure settings to your preference and you're ready to go.
Say hi to your new favorite Work From Home (WFH) setup
Be a Multitasker Pro with TriScreen Display.
Improve productivity by 300%
Having two additional screen real estate to work on increases your productivity exponentially. You are no longer a slave to your single screen with hundreds of tabs and minimized windows. Switch it up and discover how easy it is to multi-task.
Flexible Viewing Angle
The vertical swivel allows you to adjust your viewing angle horizontally and vertically, allowing you to view your screens in a more natural way that reduces eye and neck strains. It also provides flexibility to use the screens for presentations and displays.
Compatible with Mac and Windows Laptop
You never have to worry about installing drivers or software to use your Tri Screen Displays because it works on multiple Operating Systems (Windows, Mac, Android, Linux etc.) Compatibility has never been this easy!
Lightweight (2.7 pounds / 1.24kg)
Designed for the Elite Executive, all this cutting-edge power and technology is ergonomically packed into a 2.7 lb compact studio setup. With portability in mind, everything folds neatly for you to be able to take your command center on the go.
Straightforward Setup
Enjoy the clear and crisp viewing pleasure of watching in Full HD (High Definition) 1920 x 1080 progressively displayed pixels. The latest LCD IPS Panels provide faster response time, wider viewing angles, better color/contrast and color accuracy.
Compact & Portable
Maximize your productivity by using your Tri Screen Display across multiple devices (Desktops, Laptops, Android Devices, Mobile Phones, Gaming Consoles etc.). Multiple cables are provided to suit your connection preference with an option for adaptors.
Boost your productivity by 300% with our TriScreen Display.
Two 11.6" FULL HD 1080p LCD screens
Mirror your display or extend your screen, you never have to switch between windows again to get things done!
Thin and lightweight
Compact, lightweight, and portable without compromising function, stability, and durability. Take the TriScreen Display wherever you go.
Easily removable
Easy to remove as it is to set up. No hassle.
Compatible with Mac and Windows
The TriScreen Display works well with Mac and Windows OS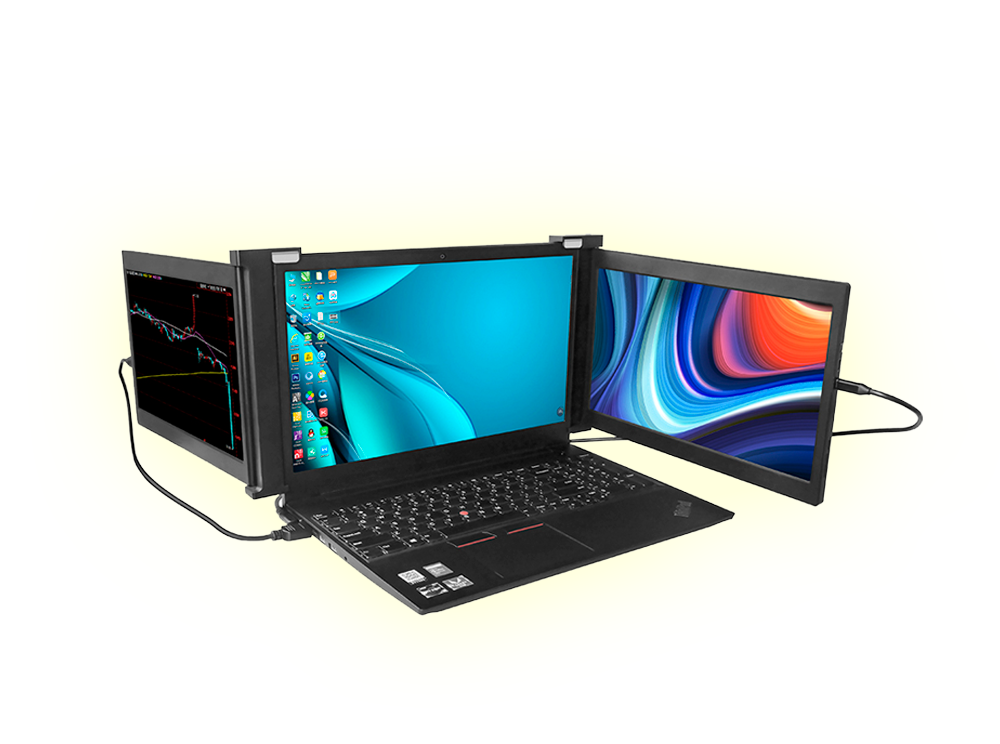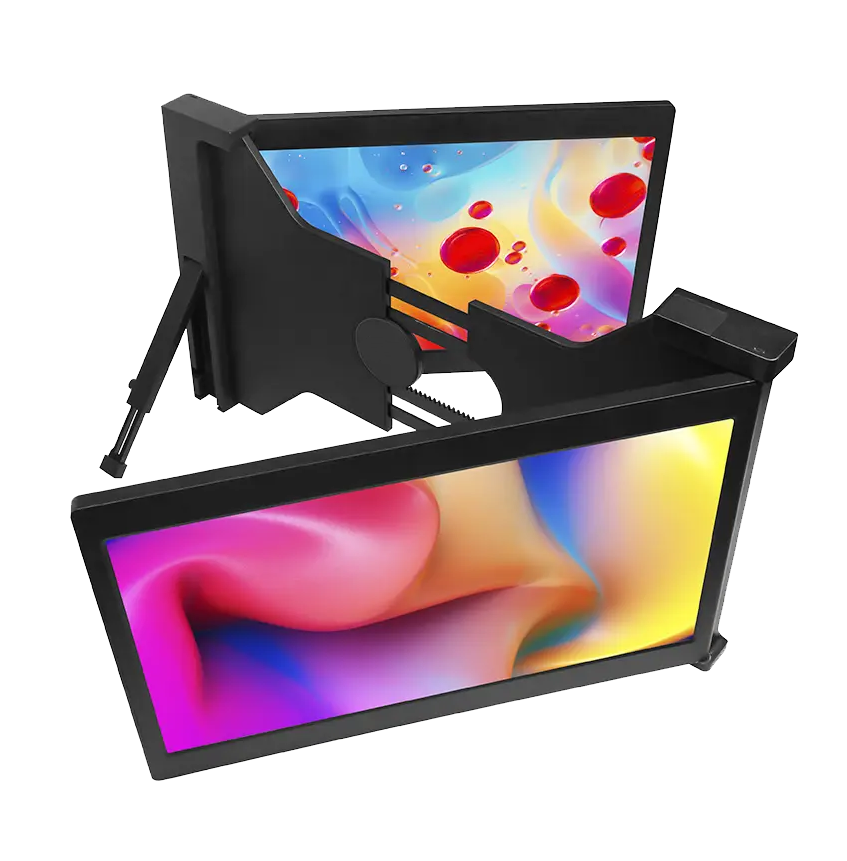 Upgrade Your WFH setup today!
Up your multitasking game with our TriScreen Display. Whether you need to keep up with your reports or create a presentation, we help boost your productivity, creativity, efficiency wherever you go. The compact and lightweight design is perfect for people-on-the-go. Compatible with Windows and Mac laptops, setting up these screens is straightforward. Expect a seamless viewing experience across the two 11.6" FULL HD 1080p LCD screens!
Two 11.6" FULL HD 1080p LCD screens
Why stop at dual monitors when you can have three? Our Two 11.6" FULL HD 1080p LCD screens deliver a seamless viewing experience. Boost your productivity and elevate your entertainment with The TriScreen Display. With Flexible Viewing Angle, you will never have to switch between windows again.
TECH SPECS
Our Tri Screen Displays are compatible with Mac, Windows and Linux Laptops and multiple devices like Mobile Phones, Gaming Consoles and other devices connected thru our provided cables or available optional cable adapters.
DISPLAY
Two 11.6 inch (diagonal) 1920*1080, Full HD LCD IPS Panels
16:9 aspect ratio
Adjustable brightness
Power consumption: 5V 2A (Per screen)
SIZE AND WEIGHT
Weight: 2.7 pounds/ 1.24 kg
Depth: 1 inch/ 2.6 cm
Height: 8.5 inch/ 21.5 cm
Width: 12.4 inch/ 31.6 cm
INPUTS AND CONNECTIVITY (PER SCREEN)
Thunderbolt/ USB-C 3.1 input Video and Power
Mini-HDMI input
Video Only
USB-C input
Power Only