If you like your purchase and would like to help other make a decision about purchasing this product by giving your honest reviews, then send us your video or pictures with your review (email to [email protected]) and we will publish this on our website.
A COMPREHENSIVE REVIEW BY WWW.HELLOLIFE.STYLE
To give you an idea of what I do, I am the Creative Director of 
WebWorks Digital Marketing.
 I also do Myskintology natural skincare products. So, you could imagine that my laptop is my life! I do everything with my Macbook air. I sleep with it, drink with it, and so much more. Hahaha! I am just kidding!
I have been working with my Macbook air since I have started my journey to work from home way back in 2016. If you want to check out my work just go to www.hellolife.style
Now being a Creative Director, I usually have multiple tabs open all at the same time. My Macbook air is just 13 inches so imagine how small my tabs or windows are. That is the reason why I have been looking for a tri-screen for my laptop. Before I invest in something, I always do my diligent research like a detective. I know you can relate to me, and that is why you are reading this, correct? If you are like me, what does constitute a good investment when it comes to electronic devices
Does it solve my problem?
Does it make my work more efficient and effective?
Is it durable?
Does the company offer a return policy?
Will I be using it every day?
If you find yourself answering yes to all of my questions above, then it is a worthy investment.
Does it solve my problem?
Yes
, It has helped me see everything hence made my editing easy and faster. No more buried screen on top of another!
Does it make my work more efficient and effective?
Yes, 
it is a portable, dumb-free easy setup. It made my presentation edgier. I can work with different views and screens.
Is it durable? Is it High Quality?
I have this product for just a month now, but the swivels and the screen displays still look the same even when I do not take care of it well. So I must say 
YES.
Does the company offer a Return Policy?
Yes, 
they offer a 30-day return policy! It gave me peace of mind that I can return it. I love mine, and I do not want to give it back at all.
Yes,
 So far, I have been using it every day wherever I go. And people that see me are impressed with my setup! A conversation starter! I definitely give this a 5-star rating all around!
YOU GET WHAT YOU PAY FOR AND THIS IS DEFINITELY WORTH IT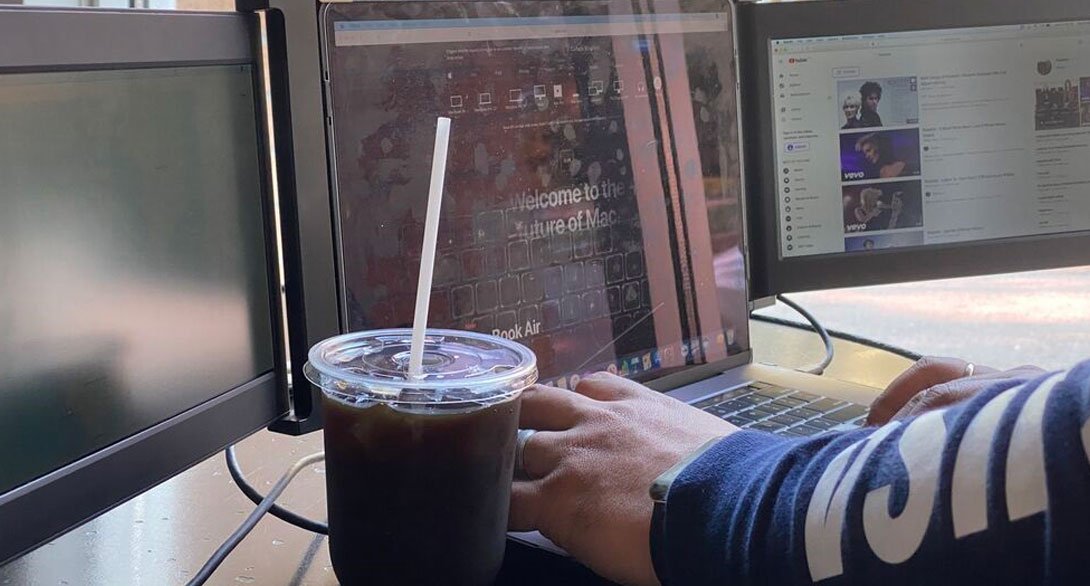 I tried ordering a cheaper Triple Screen display from another vendor so I can save money thinking that they are all the same. I had to wait for weeks before I got it. I opened the box and was immediately disappointed simply because the box itself and the packaging of the display is very low quality. The same quality you can expect from a knock-off you buy online. But I still gave it a benefit of a doubt thinking that the product will be much better. At first, it was ok, but over time, I see that even the material and the design were poorly made. The User Manual was really big but the font was so small and barely readable so it wasn't very helpful at all. After a few weeks, I gave up and just shelved it because getting irritated every time I use it is counterproductive, to begin with. I kept on searching until I found this tri screen display. I was again not sure if this will be a good buy or not basing it from my previous experience, not to mention that it was more expensive. But what else do I have to lose, so I bought it and it just took 4 days and I received my package. The packaging itself is very impressive and very high quality, something you would definitely keep along with the box for your iPhone and Macbook pro, yes it's that nice! The packaging and the cables were very well thought of and the User Manual was very easy to read and understand. Setting it up is really easy in just a few seconds. Overall I love my purchase and I do believe that you get what you paid for. They would definitely be other much cheaper options, but that would also come with the frustration and disappointment of getting a cheap quality product. I love that they have payment plans and an accidental warranty and a 30-day money-back guarantee. I tried calling their support number and was able to get friendly and accommodating customer service. If I can give this product 10 stars I would, but I'll settle for 5! 🙂